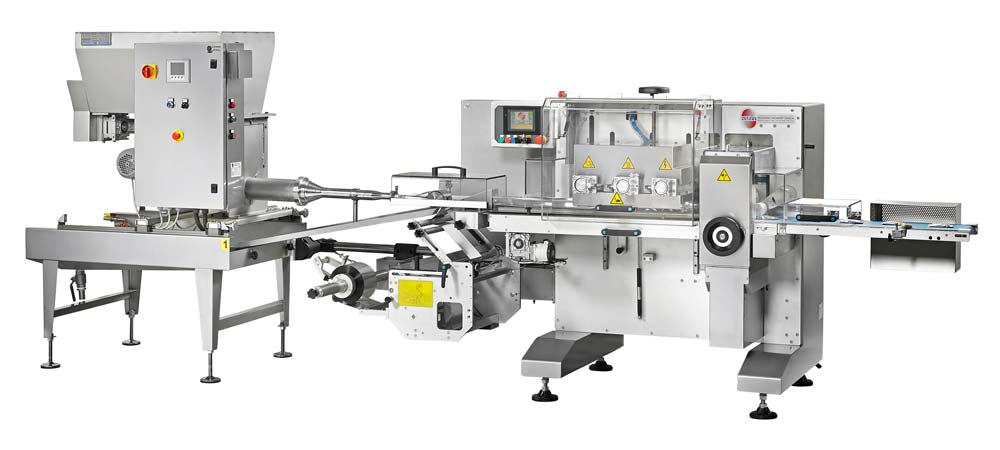 Sirio 500
 Flow-pack machine characteristics:
Main machine body in pained steel RAL 9006 – Machine from left to right
Self –centering film roll from the bottom (maximum film roll 500 mm)
Three sets of fin wheels complete of pre-heating plates and air cooling for fin seal
Transport conveyor under the fin wheel assembly, with easy release to facilitate maintenance and cleaning operations
Three up transverse sealing jaws adjustable in height – Zig-zag knives
Discharge conveyor 1 meter long motorized by an independent motor and controlled by and inverter
Motorized roller on the discharge conveyor belt
Air blow for empty bag – Photocell for print-registered film
Provision for printer (signal and controls on the touch screen control panel)
Color touch screen control panel
Three brushless motors to drive the fin wheel assembly,
transverse sealing jaws and the conveyor belt under the fin wheels
Pneumatic components FESTO – Air consumption 120 lt/min (6 bar)
Voltage 400 Volt / 3 Phase / N + E – Kw 6,5
Molasses dosing machine characteristics:
Machine constructed entirely in stainless steel Aisi 304
Main hopper complete of two worm screws in order to ensure a constant product flow
Total hopper capacity 140 kg – Rotating rake in order to create a constant product density
Main worm screw to dose the product and maintain a constant weight
Extruding and cutting head controlled by a pneumatic cylinder
Three AC motors, worm screw motor controlled by means of an inverter
Touch screen control panel – Hose with gun for machine wash down
Pneumatic components FESTO – Air consumption 70 lt/min (6 bar)
Voltage 400 Volt / 3 Phase / N + E – Kw 3
Pack weight and dimensions:
25 grams – 75 x 55 mm.
50 grams – 110 x 60 mm
Mechanical speed:
120 packs per minute
Wrapping material:
Laminated barrier material 50 micron.
Optional
25 gr extruding and cutting head
Printers
Weight control
Product counter
Rotating collecting table
Modem for remote control.