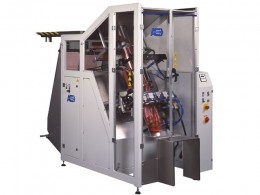 The AVM 280 is designed to make bags with a width of up to 280 mm and a volume of up to 6 liters. This robust fully automatic vertical form, fill and seal machine is available in a heat seal version for PP and laminates (AVM 280H) and an impulse seal version for PE materials (AVM 280I).
The AVM 280 is programmed by a PLC with touch screen. This PLC can also operate the dosing system as well as the feeding and discharge conveyor, creating complete packaging system control at your fingertips
Specially designed for the harsh environment of the food industry, we have the AVMS 280. This machine has a stainless steel wash down construction and IP 65 classification.
When wider bags are required the AVM 280 can be extended to the AVM 320 for impulse seal and 350 mm for the heat seal machine. This machine can make bags up to 320/350 mm wide with a contents of approx. 10 litres. The AVM 320/350 is also available as a stainless steel AVMS 320/350.
For the potato industry as well as for other delicate products such as oranges, Audion has developed the AVM 280 60° inclined machine. The product is dropped in the bag through a filling chute which is placed at an angle of 60°, minimizing product damage. In addition, this machine is able to work with mesh material (such as CLAF® fabric).
The AVM 280/320/350 can also be built with servo driven horizontal seal bars. The accurate control of the servo motor increases the production speed, without compromising performance. The result is a very fast and smooth running AVM 280/320/350. In addition, when small bags are required, the opening of the seal bars can be easily be reduced by means of the touch screen, considerably increasing production capacity.